026: Alfred Rutherford, Jr.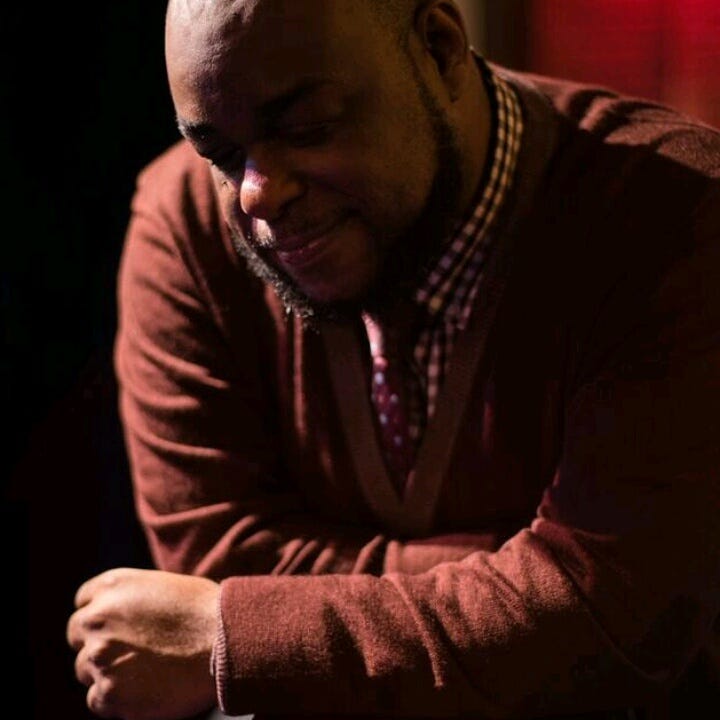 We're back! This is Play It Like It's Music, thanks for listening.
On Wednesday, February 11th of 2020 Music is not content. It's connection.
I've been going through it a little bit, like ya do. It's kind of grounding for me to check in with you all every week. It keeps me aligned with what I'm doing but mainly also the why. We can lose track of the Why so easily.
Thanks for being here.
In Memoriam: Lyle Mays
I just found out about the passing of Lyle Mays, apparently after a long recurring illness. And I'm pretty gutted by this one, even though great musicians are passing with some regularity lately. It's a huge, huge loss.
By the way, don't feel bad if you've never heard of him. So many artists don't get to be in the news until they either win an Oscar or they die. If this is the case for you, please do yourself a favor and put his name into that search box. With literally any note that man ever played, I felt his depth and connection to what might best be called "Musical Infinity".

In fact, fuck it. I'll borrow this phrase from Allen Toussaint, which he used to describe Chuck Berry: The man is a mountain.
Lyle Mays. My early dalliances with modern instrumental music were propelled in a huge way, back when I was in high school, by listening obsessively to the Pat Metheny Group. It's actually tough for me to admit that, because later I came to reject that same music and any aesthetic remotely connected to it. I went through deep phases of both loving and hating both the sound and the actual music.
It's all my own shit, maybe you can relate. I can laugh about it now, but as we're developing in music and our tastes evolve, we uncover new areas and it's common to shift gears.
Some people come out of the ground just like a potato and they never change what music they like. But I'm not one of those people.
I have actually changed my musical tastes so many times that I frequently forget who I am. I listen really hard, and I also play hard and practice hard. I go hard in lots of directions, and one of these was deliberately trying to throw off my addiction to what you might call "finger jazz", that supernoodle, hyper-intricate polyphony that the Metheny vibe is most associated with. I'd been weaned on it, and I became convinced that I needed to wean myself off of it.
I thought it might be holding me back from getting laid or something, who knows. It was a long time ago.
It can happen, and my real reasons were sound but also sad: I didn't believe I'd ever be a good enough player to work in those circles. Not only did I lack confidence, but even hearing folks - friends of mine - who played at that level made me feel bad about myself. My string playing ability seemed stuck somewhere in space between the suzuki method and the world of guitar gods, and far from those extremes I grew very lonely.
I plateaued there for a long time and started to feel like I was running out of air. It hurt, and I decided I no longer could afford to listen to music that didn't shine a light on my own path forward.
The complexity was too intimidating for me.
I stopped believing in anything but the simplest possible music, stuff I could try to play on my cello, and my path became very narrow. I laugh about it now because I eventually healed myself and my attitude and I found a way to start playing again. It was all in my head like you might guess.
And my feelings about the Metheny group eventually settled down into a loving appreciation, the kind one might feel for a friend with whom I'd lost touch over the years but for whom you have great respect. And that's where that music lives for me, it's a place of deep respect. But of course we're fortunate that Metheny is still with us and still pushing music forward.
None of this is about him though.
Lyle Mays was and remains the core of my connection to that group, and also very close to the trunk of my own musical tree of influences. He made the keyboards not only sing, but shine. He brought a magic to the stage, and to the very idea of musicmaking. Genius. The man was an unbelievable genius, and the music just emanated from him.
I really can't put into words just what kind of player he was. Marketing folks need to sort us into genres, but the more you love music the more music you love. The more you inhabit music, the more the music will inhabit you.
Lyle Mays was one of the closest things I ever saw to a pure musical being. Go listen. Start maybe with his solo album from the year 2000 and work backward, or start from the beginning and work forward. Or anywhere really. Now that there's a bookend to the man's work, maybe I'll discover my own courage and dive back in to that infinite pursuit.
Here's to you Lyle, thank you for your gifts and your work which will continue to teach us.
In honor of Lyle, today we're going to hear from a great piano player. His name is Alfred Ruthorford, Jr.
Listening back to this interview in the edit, my jaw just kept hitting the floor as he dropped one gem after the next.
In case you don't already know and admire him, Alfred is a native of Memphis Tennessee. While still in high school he performed background vocals with artists such as Eric Benet, Monica and Jon Secada. He went on to study opera and also begin developing his love for teaching.
He's a sought-after session pianist, keyboardist, composer, arranger, organist, studio musician, background vocalist and vocal coach.
Like many of us, he moves between genres. Alfred has in real credibility in Modern Pop, Country, Reggae, EDM, Gospel, Contemporary Christian, Club/house, instrumental music, electronic music, soul music, neo soul, rock, sacared music, vocal jazz, hip-hop, folk music, opera, and choral music.
He's worked with Jack Flash, Karen Clark-Sheard, Marla Joy, B Slade, Citizen Cope, Valarie June, The Clark Sisters, Cassondra James, The Winans, Cory Henry... it's a long and growing list.
You'll get a lot out of this one.
[PRESS PLAY.]
---
Thanks for sticking around. Thanks to Alfred Rutherford, Jr. for sharing his space and his spirit with us.
You can find Alfred online @alfredrutherfordjr on the socials that matter. Especially on IG, he's got so many tasty videos of himself playing on his downtime in the studio.
Thanks for listening to Play It Like It's Music. If you liked the show, PLEASE tell a friend. Let's grow this thing.
Follow me on social @trevorexter and talk to me on there if you have thoughts.
We're all contending with a mutating professional landscape, jacked revenue streams and a lot of noise out there in the culture. But you gotta keep playing.
We don't draw any lines here between scenes or styles.
As always, thank you for listening and remember to play it like its music.
You can check out my music on bandcamp and other places. It's all at my website, trevorexter.com. Sign the mailing list to get this podcast sent right to you the moment it comes out. Consider hiring me to score your piece, produce your podcast or back you up onstage. Music is a beautiful thing and it makes the world go around.
Big love to your ears.
Trevor
(Did you press play yet?)
.
.
.
If you like my stuff, help it spread by sharing it!